Environmentally Friendly "Green" Buildings
Altensis is the Turkey's leading company specialized in sustainability management, green building consultancy and engineering. The Company's ongoing and completed projects volume has reached over 5 billion dollars. Altensis' services led to the implementation of many innovative and affordable green building technology to the projects the Company is involved.
The underlying principles of effectiveness and efficiency of Altensis  is the Company's expert staff with their education, industry know how and extensive experience.
Green Building Expertise
As in every project, for Green Building Projects it is also easy to start, the hard part is to finish as it is planned. With more than 100 projects which are certified, Altensis is by far the most prominent company among those who serve in this sector in Turkey. Also with its currently running over 50 projects; if taken into account of these projects budgetary and spatial volume it is considered as one of the leading companies in the world.
Many leading international, national firms and agencies have chosen Altensis for their numerous flagship projects in order to reach their sustainability goals. Altensis has reached the targeted success in all its projects without exceeding the preset limits.
Partnering with Altensis will provide you a secure and efficient path throughout your green building certification process.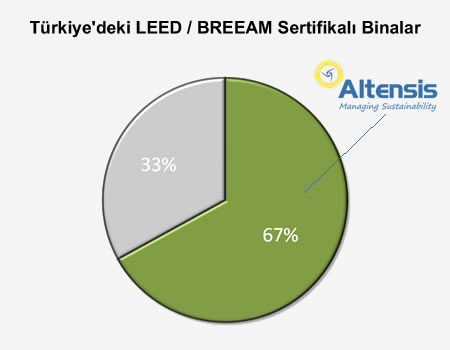 Distinguished Service 
In order to obtain green building certification under optimal conditions and with success, it is vital to put together the right solutions and supporting this process with proper and detailed documentation. It is very important define each parties responsibility throughout the process otherwise process can consume more time than it should with additional cost burden, receipt of required certificate could also be jeopardized.
Altensis eliminates this problem with its deep involvement in every phase of the project.
Altensis experts with their project management approach take the full responsibility for the certification process and as a result they do not leave any room for any negative surprises. Altensis handles the following requirements and services with its experienced team for its clients; all the documentation required for LEED and BREEAM certificates, preparation of application files, engineering calculations, the process of answering the questions from the USGBC and BREEAM and the administration of the general process.
LEED Certification Consulting and Engineering Services
BREEAM Certification Consultancy, Assessment and Engineering Services